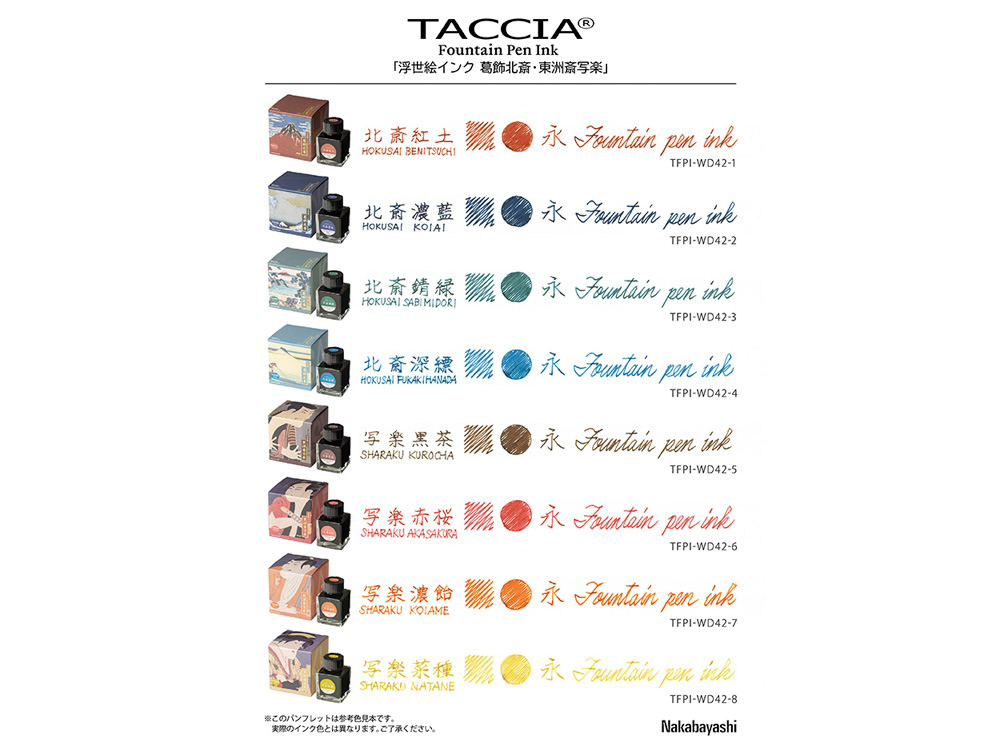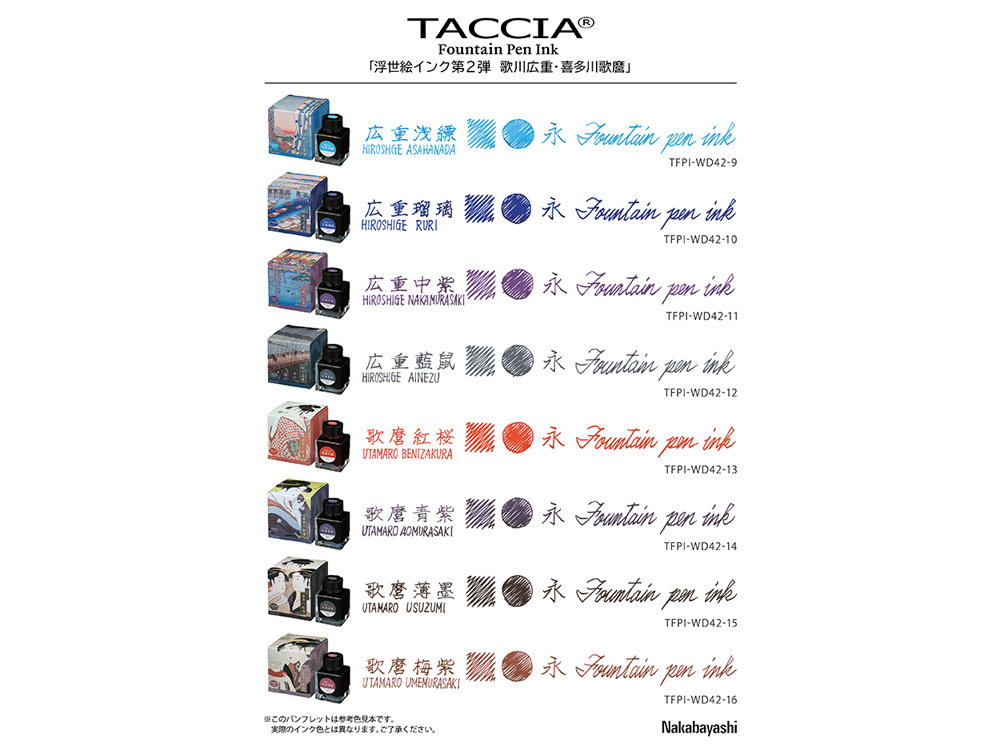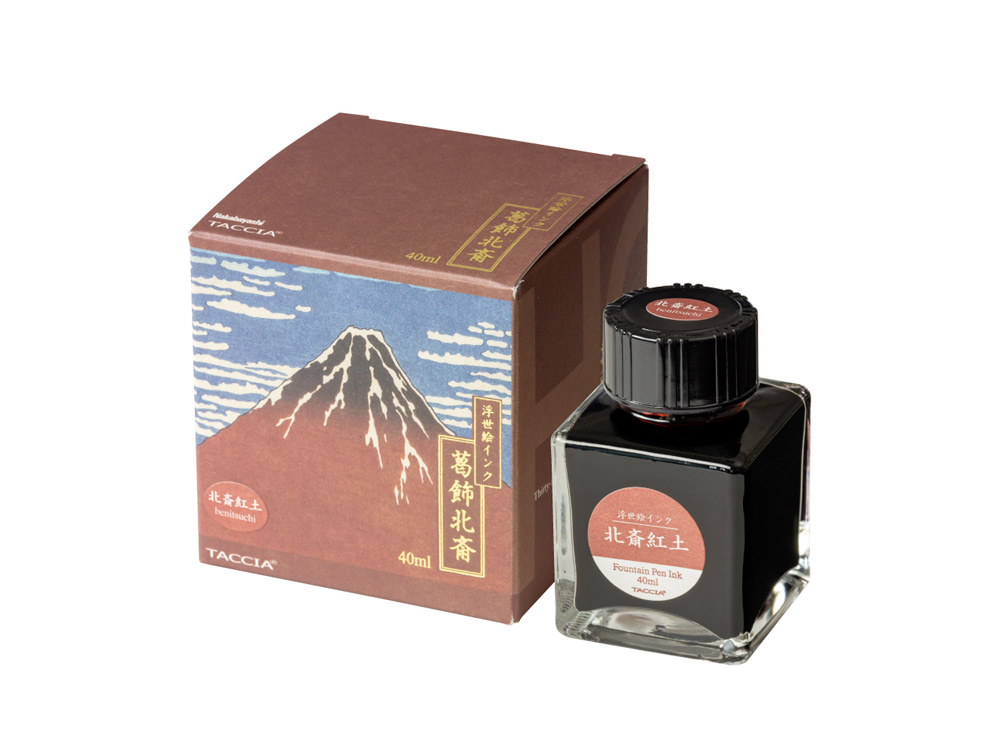 Hokusai-benitsuchi(TFPI-WD42-1)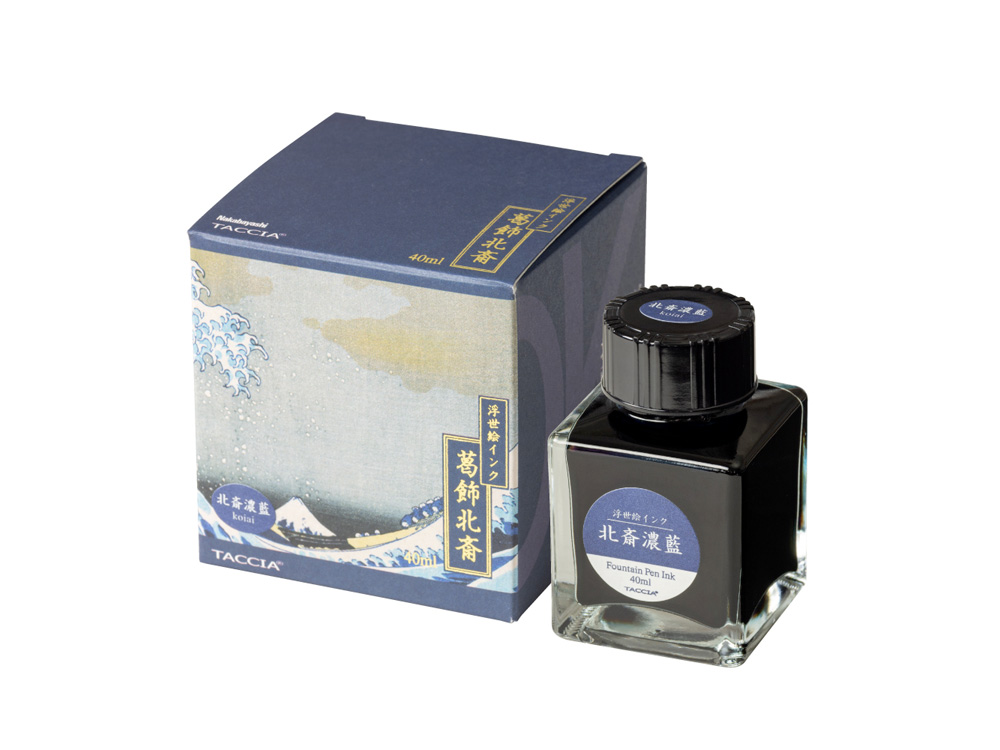 Hokusai-koiaiFPI-WD42-2)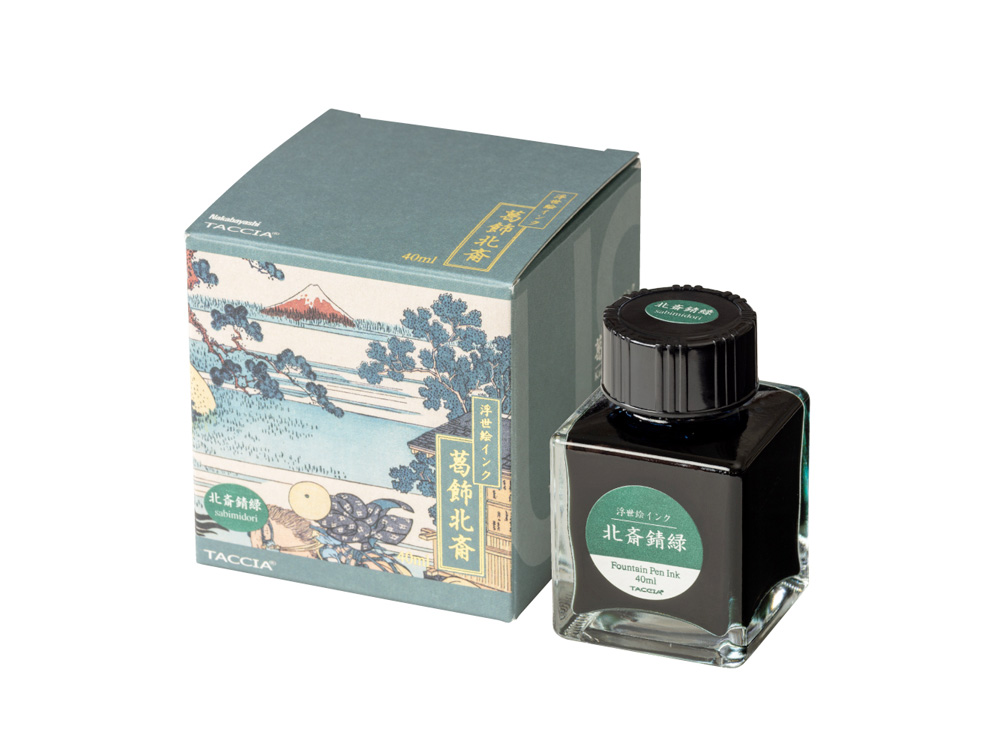 Hokusai-sabimidori(TFPI-WD42-3)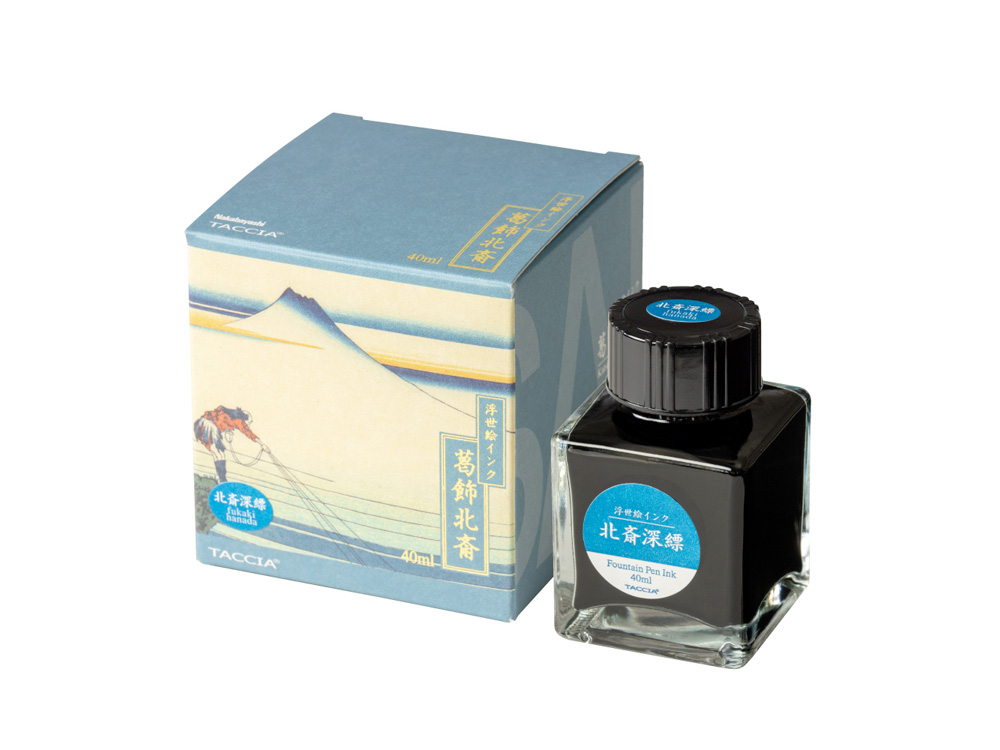 Hokusai-fukakihanada(TFPI-WD42-4)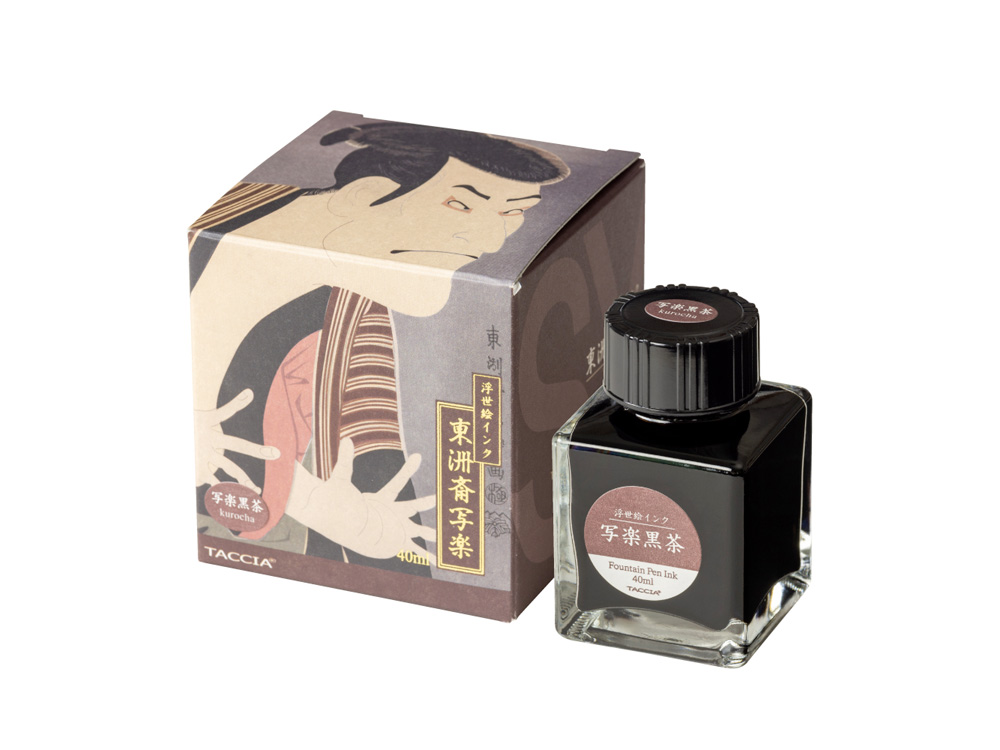 Sharaku-kurocha(TFPI-WD42-5)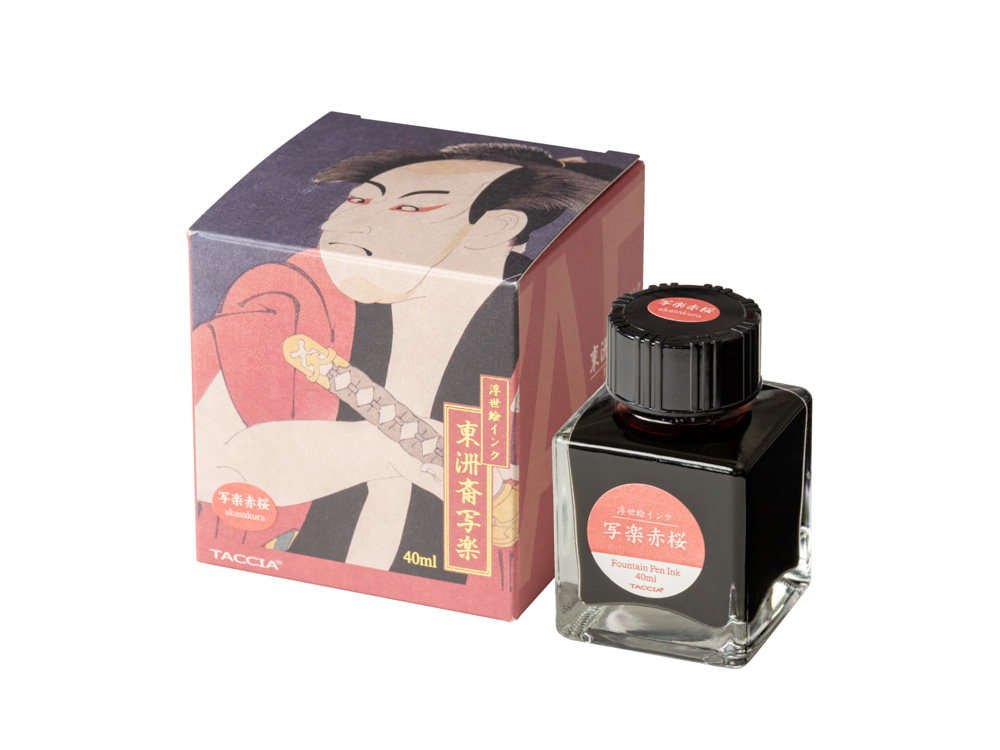 Sharaku-akasakura(TFPI-WD42-6)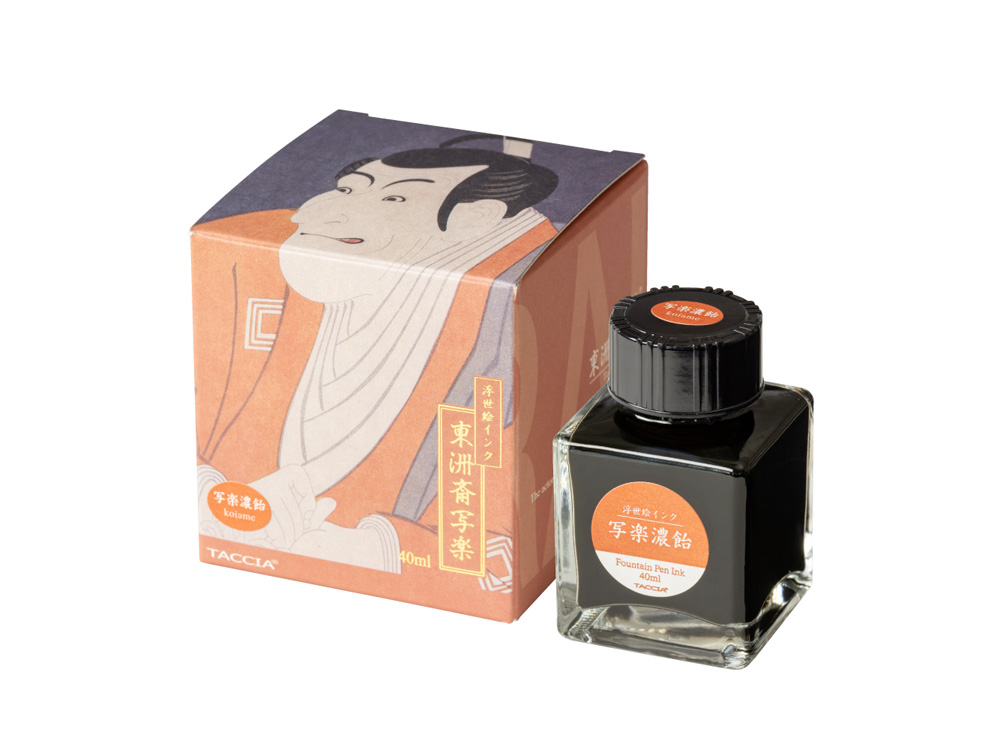 Sharaku-koiame(TFPI-WD42-7)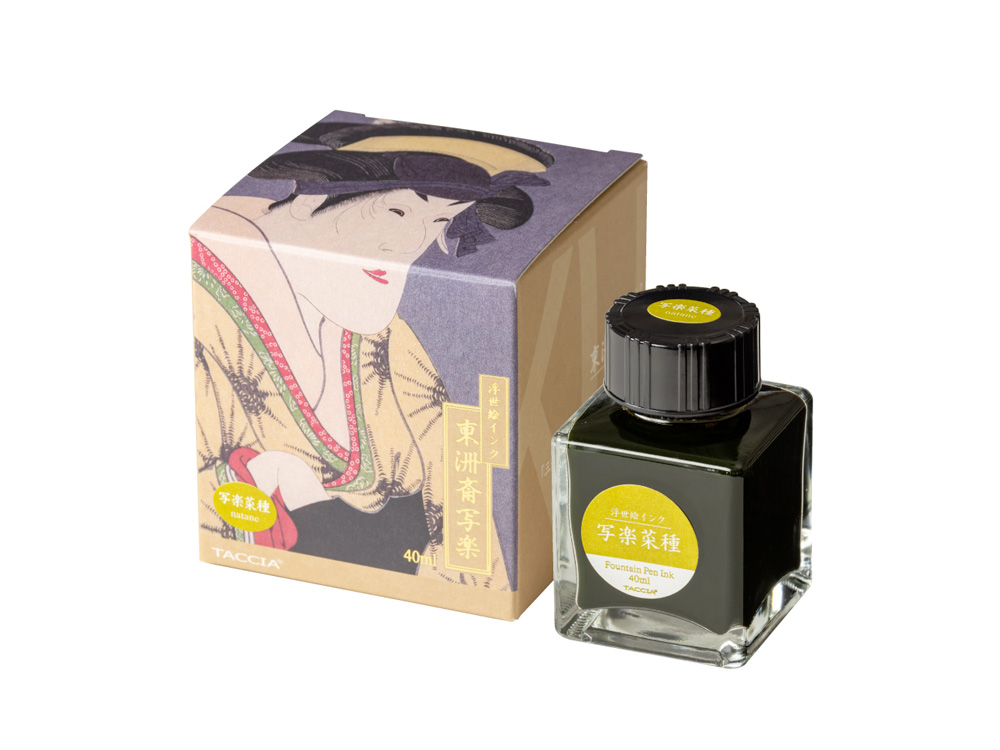 Sharaku-natane(TFPI-WD42-8)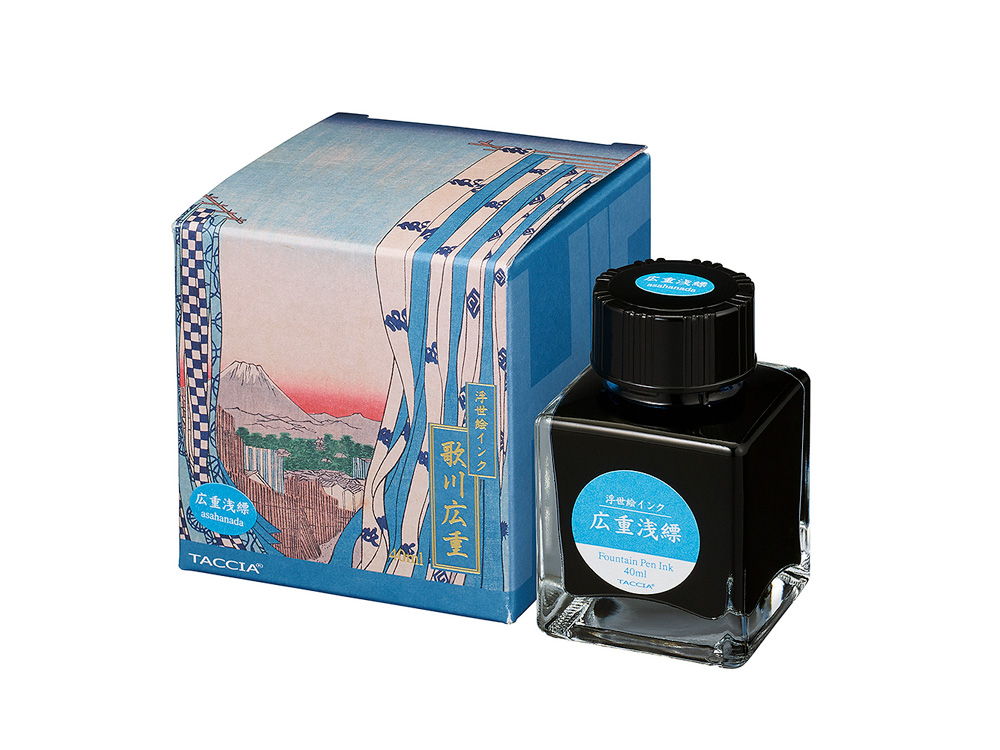 Hiroshige-asahanada(TFPI-WD42-9)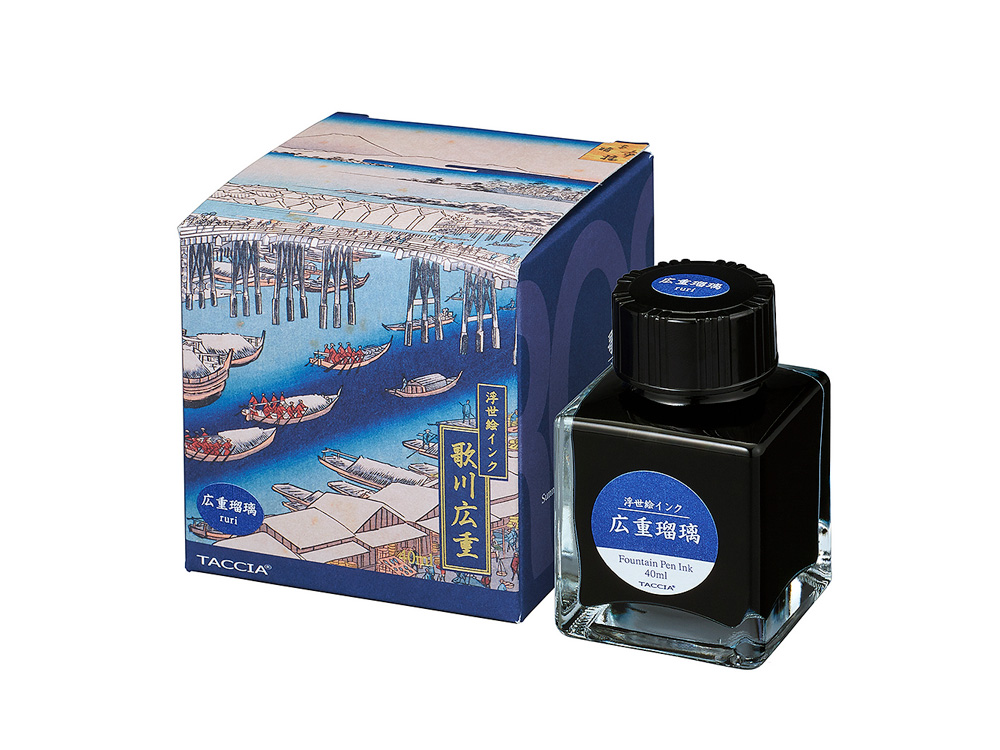 Hiroshige-ruri(TFPI-WD42-10)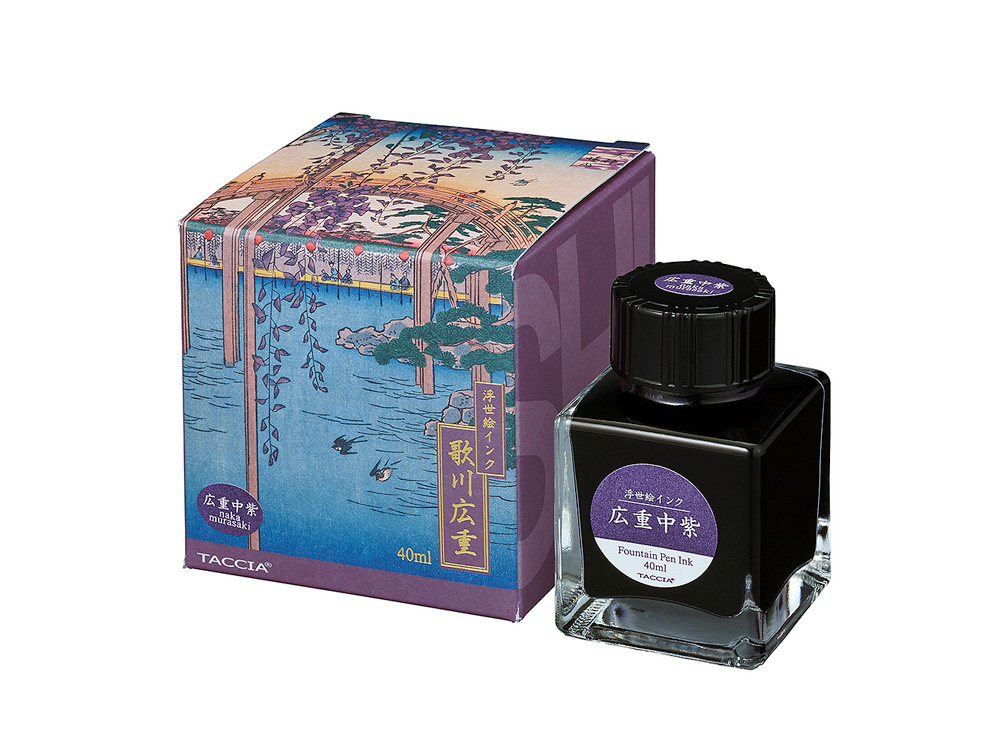 Hiroshige-nakamurasaki(TFPI-WD42-11)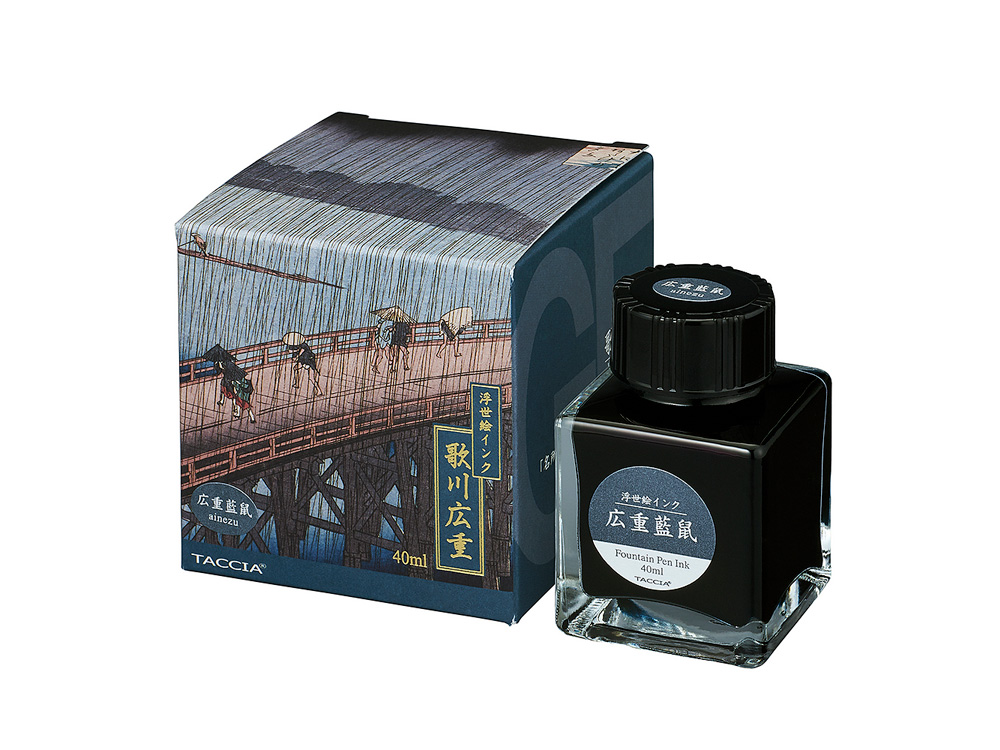 Hiroshige-ainezu(TFPI-WD42-12)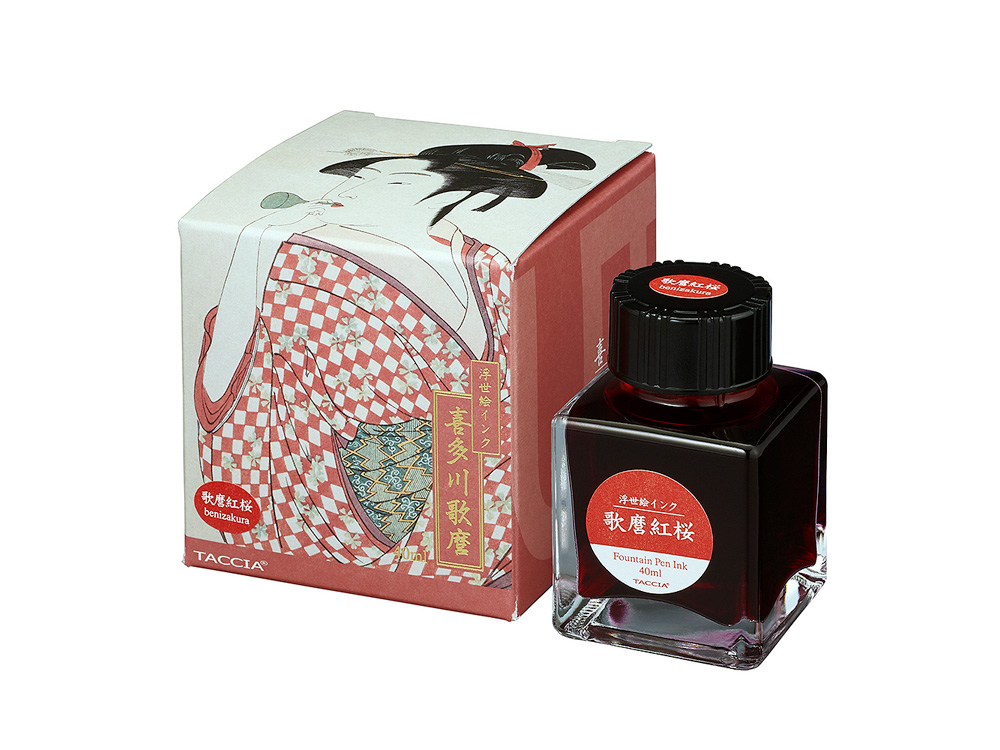 Utamaro-benizakura(TFPI-WD42-13)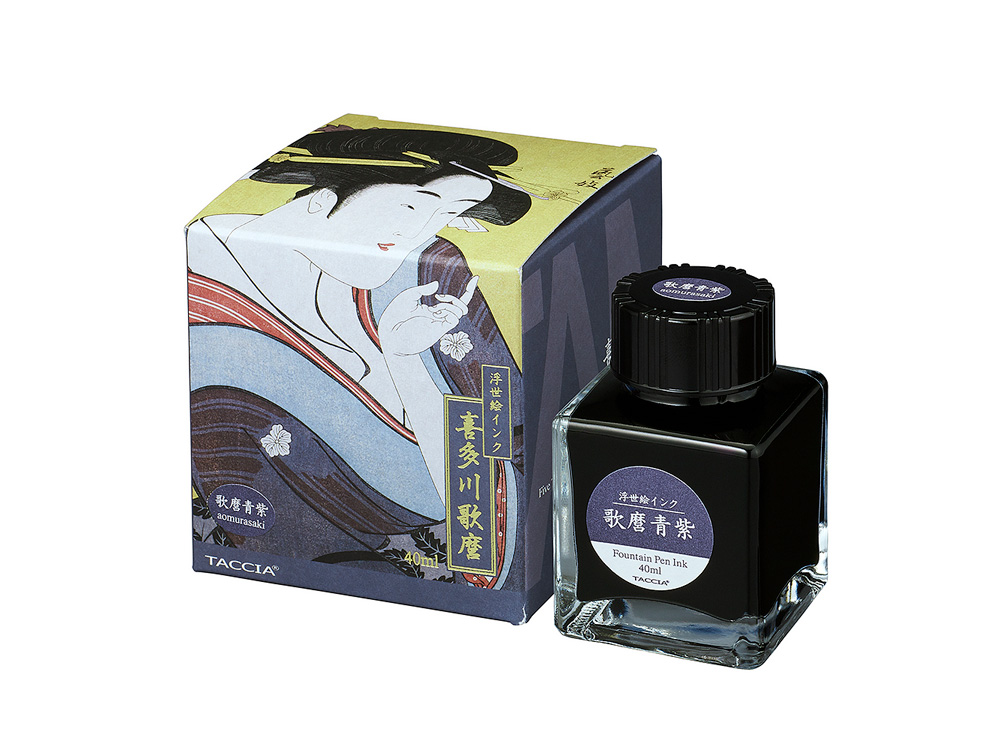 Utamaro-aomurasaki(TFPI-WD42-14)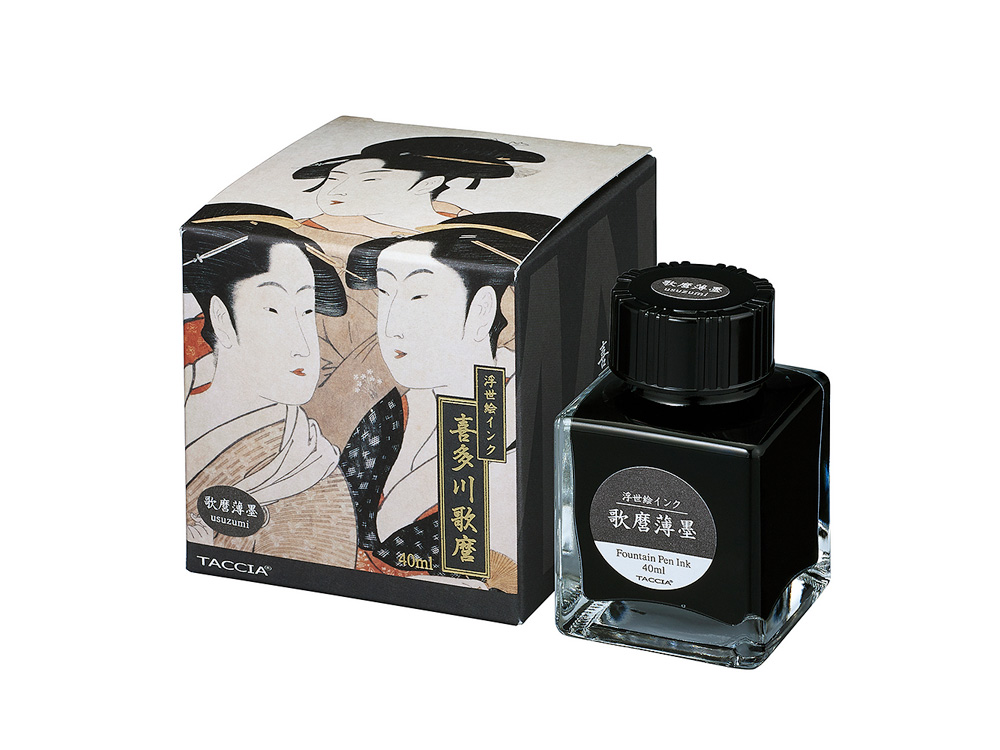 Utamaro-usuzumi(TFPI-WD42-15)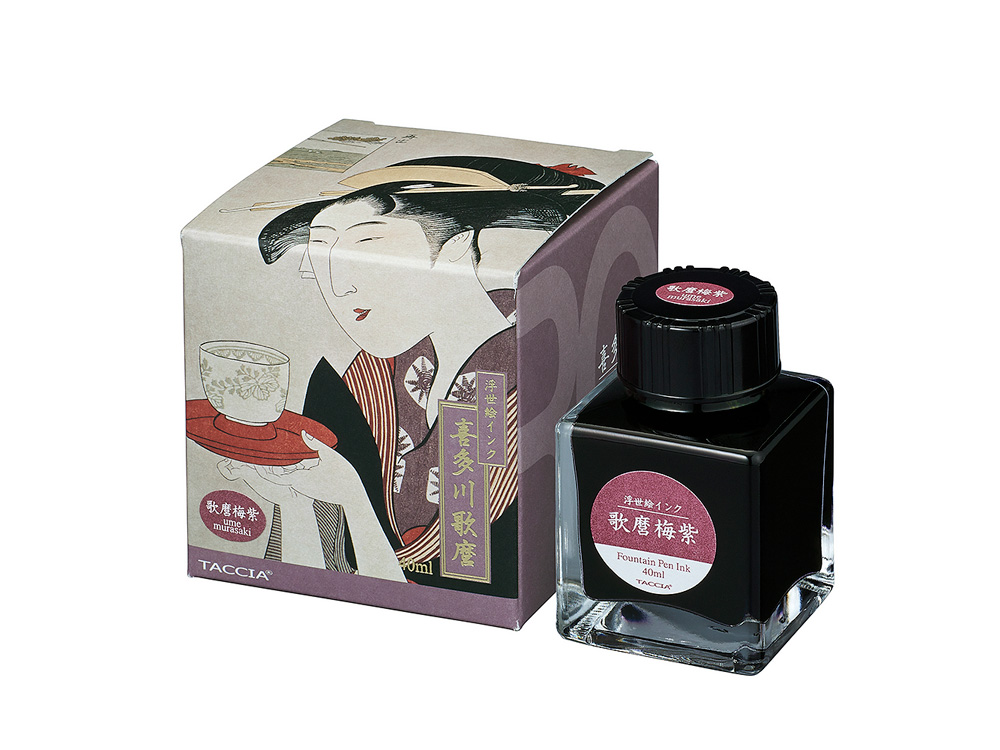 Utamaro-umemurasaki(TFPI-WD42-16)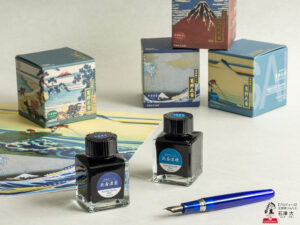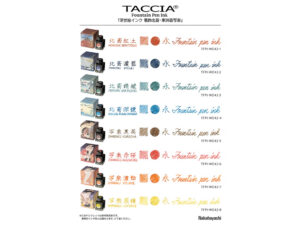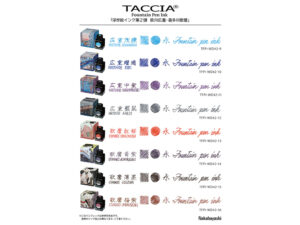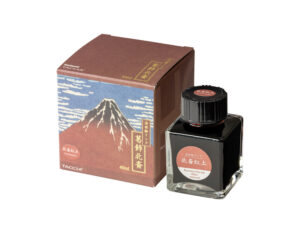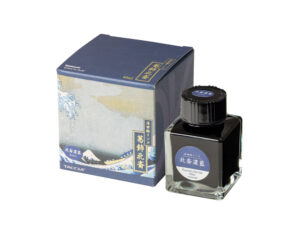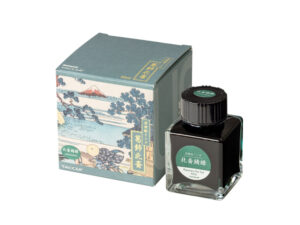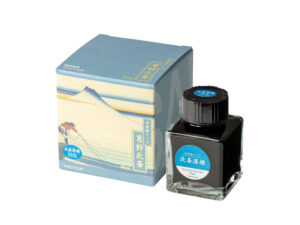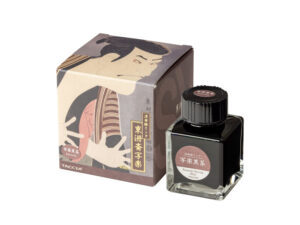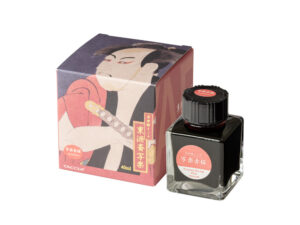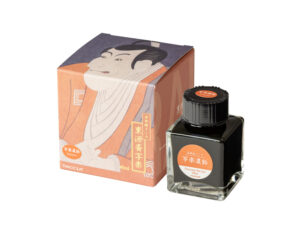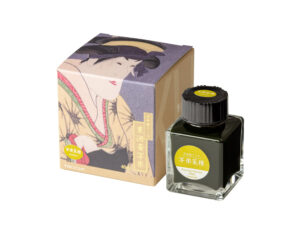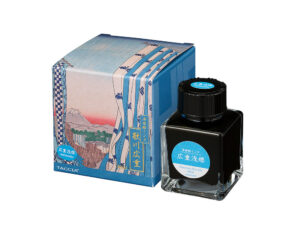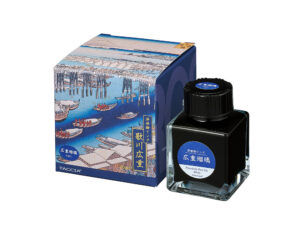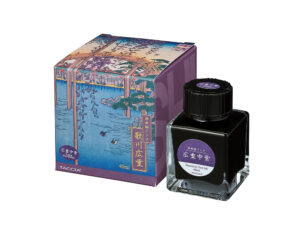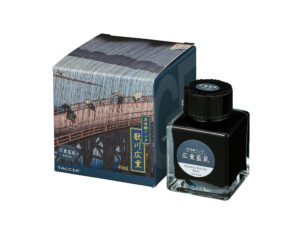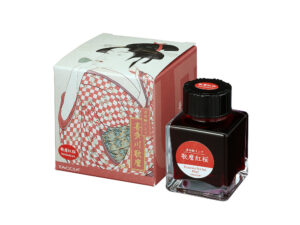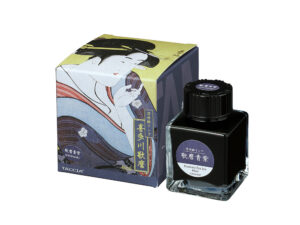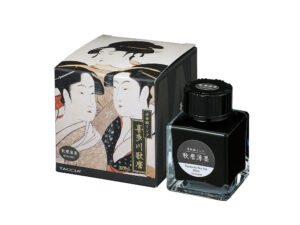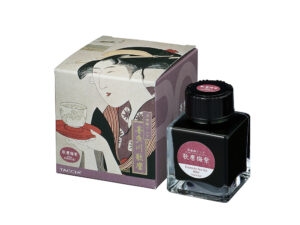 Ukiyo-e Fountain pen ink
浮世絵インク
Taccia introduces the new Ukiyo-e ink as part of their fountain pen ink series.
The Ukiyo-e is a Japanese printing established in the Edo-period(17th century) to feature the life style, trend and play by the people of the time.Those colors used for Ukiyo-e are too delicate to be expressed in a single word.Our product Ukiyo-e ink reproduce these colors and will expand your enjoyment of drawing with fountain pens.The 4 colors each are released as Hokusai, Sharaku, Hiroshige and Utamaro collection.
All inks are made of safe raw materials and all colors were supervised by the color consultant in Japan. These ink collections were also produced by the stationery expert and manufactured by our factory.
Category

Fountain pen ink
Ink

aqueous dye / 40ml
Bottle

glass
Lid

Phenolic resin
Gasket

PE
Unit size

W42xD42xH68mm
Unit weight

141g
Carton

W375×D375×H176mm
Weight

9.1kg
QTY per carton

1/50
| Color | Product number | Product code | JAN code |
| --- | --- | --- | --- |
| Hokusai-benitsuchi | TFPI-WD42-1 | 08225 | 4902205082255 |
| Hokusai-koiai | TFPI-WD42-2 | 08226 | 4902205082262 |
| Hokusai-sabimidori | TFPI-WD42-3 | 08227 | 4902205082279 |
| Hokusai-fukakihanada | TFPI-WD42-4 | 08228 | 4902205082286 |
| Sharaku-kurocha | TFPI-WD42-5 | 08229 | 4902205082293 |
| Sharaku-akasakura | TFPI-WD42-6 | 08230 | 4902205082309 |
| Sharaku-koiame | TFPI-WD42-7 | 08231 | 4902205082316 |
| Sharaku-natane | TFPI-WD42-8 | 08232 | 4902205082323 |
| Hiroshige-asahanada | TFPI-WD42-9 | 08233 | 4902205082330 |
| Hiroshige-ruri | TFPI-WD42-10 | 08234 | 4902205082347 |
| Hiroshige-nakamurasaki | TFPI-WD42-11 | 08235 | 4902205082354 |
| Hiroshige-ainezu | TFPI-WD42-12 | 08236 | 4902205082361 |
| Utamaro-benizakura | TFPI-WD42-13 | 08237 | 4902205082378 |
| Utamaro-aomurasaki | TFPI-WD42-14 | 08243 | 4902205082439 |
| Utamaro-usuzumi | TFPI-WD42-15 | 08244 | 4902205082446 |
| Utamaro-umemurasaki | TFPI-WD42-16 | 08245 | 4902205082453 |